By Laurindo Garcia, Content Lead – Catalyse Consulting
July 15th 2019 is World Youth Skills Day.
Several extraordinary headwinds are brewing against the workforce of the future. Markets that were once stable will become more volatile due to shifts in supply chains and emergent competitors. Advances in machine learning will compel companies to automate or augment business processes and stoke job insecurity among workers. People will live longer in a world where socio-economic inequality intensifies.
To prepare for the many obstacles that lie ahead astute business leaders are taking steps to transform their companies in unconventional ways. Leadership mindsets are gradually shifting beyond the mere pursuit of output at the lowest cost with the highest return. There is growing appreciation of organisations who excel through continual learning, adaptation and accentuation of human qualities that are the bedrock of a company's value.
"In a world where technology is changing, jobs and people are living longer lives with more diverse careers; organizations have not only an opportunity, but a responsibility to reinvent learning so that it integrates into the flow of work and life." 2019 Global Human Capital Trends, Deloitte.
You have an opportunity to start building your workforce of the future now. Enhance learning at your company by cultivating knowledge exchange across the various generations of talent who co-exist within the same workplace.
According to Pew Research Foundation the various generations are commonly defined by birth year: born before 1946 (Silent Generation); between 1946 and 1964 (Baby Boomers); 1965 and 1980 (Generation X), 1981 and 1996 (Millennials) and 1996 onward (Generation Z). Increased life expectancy and rising age of retirement make it commonplace these days for four to five generations of talent to be working side by side.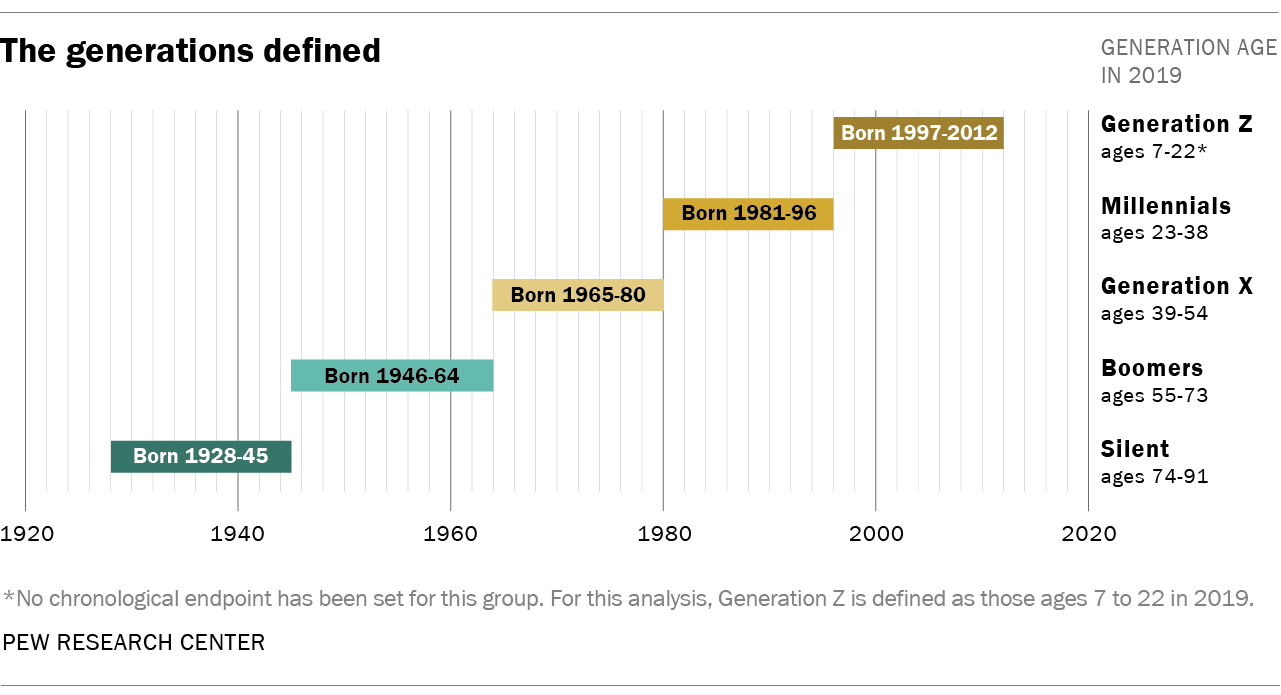 Source: Pew Research Centre
Intergenerational workplaces are not without their challenges. Social norms in Asian cultures make it difficult for young people to challenge the authority of seniors. Popular movies and TV shows that capitalise on the drama of sparing generations at work only add fuel to unconscious bias.
Creating a common language of respect in a workplace enables voices of all ages to be heard in a workplace. By looking past stereotypes we see that employees across all generations need acknowledgment as valued members of an organisation. Intergenerational learning can help address these needs.
For example, young professionals described their struggles with in-person corporate communication skills in a survey conducted by Bridgeworks. Corporate veterans could transfer their collaboration, feedback, empathy and entrepreneurial skills honed from life-long careers downstream to the younger generation through mentorship.
Conversely, digital transformation is high on the agenda for many senior business leaders, yet keeping up with fast-changing technologies is a struggle. Younger digital natives could transfer market insights and productivity hacks upstream to senior leaders through reverse mentorship.
Employers who fail to create an environment where everyone feels valued and respected risk breeding contempt within the workforce. Corporate cultures that address the diverse needs of employees at every stage in their career will reap significant benefits: better employee engagement and loyalty, enhanced productivity and a reduced risk of organisational memory loss when personnel transition out of the company.
Here's what you can do to prepare your workforce of the future:
Follow Catalyse Consulting and stay informed with news and resources tailored to help organisational leaders in Asia cultivate an inclusive, high-performing environment.
Copyright © 2019 Catalyse Consulting. All rights reserved.